Sarah is having a horrible birthday. Her car has broken down on the side of the road, stranding her and her drunken boyfriend in the middle of nowhere. When a heated argument gets out of hand she strikes out on her own into the dark, unaware of the danger that awaits her.
When Kevin sees a beautiful girl in distress walking down the road, he offers her a lift in his Camaro -a simple attempt to pay forward an act of kindness he once received. But as the night wears on he finds himself falling for a girl he knows nothing about, and who might just be more trouble than he bargained for.
Scotty is battling his own inner demons after the death of his father. The guilt that eats away at him is slowly causing him to lose his grip on reality, and he finds himself driven by a fear that may lead him to do the unthinkable.
ROAM follows the stories of three broken people all trying to make sense of the troubled world they live in- and whose paths are about to intersect in a way that will forever change their lives. While it's much darker than the author's previous two novels, almost a gritty-noir / psychological thriller take on YA (and I can only imagine if Thilliez wrote YA, this is what it would look like), it still maintains the character complexity and suspenseful plot development I've really come to associate with this author. If you read and enjoyed MORTOM or RESTHAVEN, I think you'll enjoy this one as well. Readers should be warned, however, that the book covers some pretty heavy subject matter, from sex and drugs to mental illness and abuse, yet with a redeeming ending that I think really pulls it all together. Over all, a complex and suspenseful read that both holds your attention and stays with you well after you turn the last page. A great pick for fans of thrillers/suspense and YA alike. 
Rating: 4 stars
I received a free copy of this book in exchange for an honest review.

---
To read more reviews of this book on Goodreads, click HERE
To purchase your own copy of ROAM on Amazon, buy HERE
---
About the author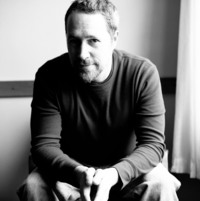 Erik Therme has thrashed in garage bands, inadvertently harbored runaways, and met Darth Vader. When he's not at his computer, he can be found cheering for his youngest daughter's volleyball team, or watching horror movies with his seventeen-year-old. He currently resides in Iowa City, Iowa—one of only twenty places in the world UNESCO has certified as a City of Literature.
Learn more by visiting eriktherme.com