If you tell anyone she dies…
Bree has always been the level-headed, responsible type, looking out for her kid sister Alyssa, and working hard to keep their broken family together. When impulsive 16 year old Alyssa takes off after yet another one of their fights, Bree doesn't worry too much. Until Alyssa doesn't come back. And when her backpack mysteriously shows up, Bree finds a terrifying message inside that chills her to her core, and launches her into a desperate race against the clock to find her sister.
But as the trail quickly goes cold, it seems Bree's only hope of finding Alyssa lies in an anonymous text message offering help- in exchange for something else. With time running out, it's clear what she must do. After all, she would give anything to bring Alyssa back…. wouldn't she?

Get ready for another edge-of-your-seat thriller from author Erik Therme! I Know You will take readers through some terrifying twists and turns as they follow Bree in her frantic search to bring her sister home. Along with an eclectic mix of personalities, sketchy- to downright-frightening locales, and a roller coaster plot that will leave you holding your breath (seriously, don't forget to breathe…), the book also paints a dramatic picture of the intense power of family bonds, the haunting devastation of abuse, and just what it means to fight for someone you love. A hair-raising psychological thriller that won't disappoint, perfect for your summer TBR list. Highly recommended!
---
Add I Know You to your shelf on Goodreads HERE
Purchase your own copy on Amazon HERE
---
About the author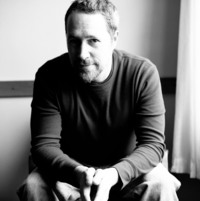 Erik Therme has thrashed in garage bands, inadvertently harbored runaways, and met Darth Vader. When he's not at his computer, he can be found cheering on his youngest daughter's volleyball team, or watching horror movies with his oldest. He currently resides in Iowa City, Iowa—one of only twenty-eight places in the world that UNESCO has certified as a City of Literature.
Join Erik's mailing list to be notified of new releases and author giveaways: http://eepurl.com/cD1F8L And check out his website: www.eriktherme.com